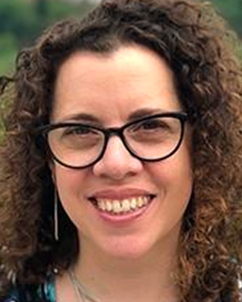 Dr. Susannah Paletz is an Associate Professor at the College of Information Studies (iSchool) with an affiliation at the Applied Research Laboratory for Intelligence and Security (ARLIS) at the University of Maryland at College Park (UMD). Prior to her current appointment, she was a (Senior) Research Scientist at the UMD Center for Advanced Study of Language (CASL).
At UMD, she has been awarded contracts as well as competed grants from the National Science Foundation (NSF) and the Minerva Research Initiative. From 2008 to 2013, Dr. Paletz was a postdoctoral research associate and then Principal Investigator (PI) of NSF grants at the University of Pittsburgh Learning Research and Development Center (LRDC), where she studied team cognition and interaction in science and engineering teams. Prior to that, she was a civil servant Research Psychologist, first in the Distributed Team Decision Making Laboratory (2004-2006) and then in the Human-Computer Interaction (HCI) Group (2006-2008), contributing to a range of aerospace projects.
Dr. Paletz has a track record of both leading and researching multidisciplinary, multinational teams. Her background includes research on real-world teams, examining the impact of culture on creativity, being the social science expert on computational social science projects, conducting theory-based analyses of social media and team conversations, and developing annotation schemes for complex constructs. She has published a monograph; over 20 peer-reviewed journal articles; over 50 book chapters, conference proceedings papers, and technical reports; and 65 peer-reviewed conference papers. She has also mentored 68 students and research assistants as well as junior scientists.
Dr. Paletz holds a PhD and MA in Social/Personality Psychology from the University of California, Berkeley (2003, 2000) and a BA in two majors, the Psychology major and the Science in Society Program from Wesleyan University (1994, high honors). She is a member of the American Psychological Association; AOM; APS; SPSP; SIOP; and the Interdisciplinary Network for Group Research (INGRoup). She is on the editorial board of Small Group Research.
EDUCATION:
PhD and MA in Social/Personality Psychology, UC Berkeley
BA Psychology and BA Science in Society, Wesleyan University
Professional Highlights
Paletz and her multidisciplinary, multinational team were awarded a $1.5 M Minerva Research Initiative grant to study the role of emotions and narratives in Polish and Lithuanian social media (2019-2022).
Paletz was the UMD PI on a collaborative grant from NSF on Entrainment and Task Success in Team
Conversations with University of Pittsburgh computer scientist Diane Litman (2014-2017).
The Human-Computer Interaction Group at NASA Ames Research Center received the NASA Honor Award (2009), Ames Research Center Group Achievement Award (2008), and Johnson Space Center Group Achievement Award (2007) for mission assurance software.
Papers
Paletz, S. B. F., Auxier, B. E., & Golonka, E. M. (2019). A multidisciplinary framework of information propagation online. Springer Nature. https://link.springer.com/book/10.1007/978-3-030-16413-3
Paletz, S. B. F., Pavisic, I., Miron-Spektor, E., & Lin, C.-C. (2018). Diversity in creative teams: Reaching across cultures and disciplines. In L. Y.-Y. Kwan, S. Liou, & A. K.-Y. Leung (Eds.), Handbook of culture and creativity: Basic processes and applied innovations (pp. 169-206). New York: Oxford University Press.
Paletz, S. B. F., Chan, J., & Schunn, C. D. (2017). The dynamics of micro-conflicts and uncertainty in successful and unsuccessful design teams. Design Studies, 50, 39-69.
Paletz, S. B. F., Schunn, C. D., & Kim, K. H. (2013). The interplay of conflict and analogy in multidisciplinary teams. Cognition, 126, 1-19.
Paletz, S. B. F., & Peng, K. (2008). Implicit theories of creativity across cultures: Novelty and appropriateness in two product domains. Journal of Cross-Cultural Psychology, 39, 286-302.