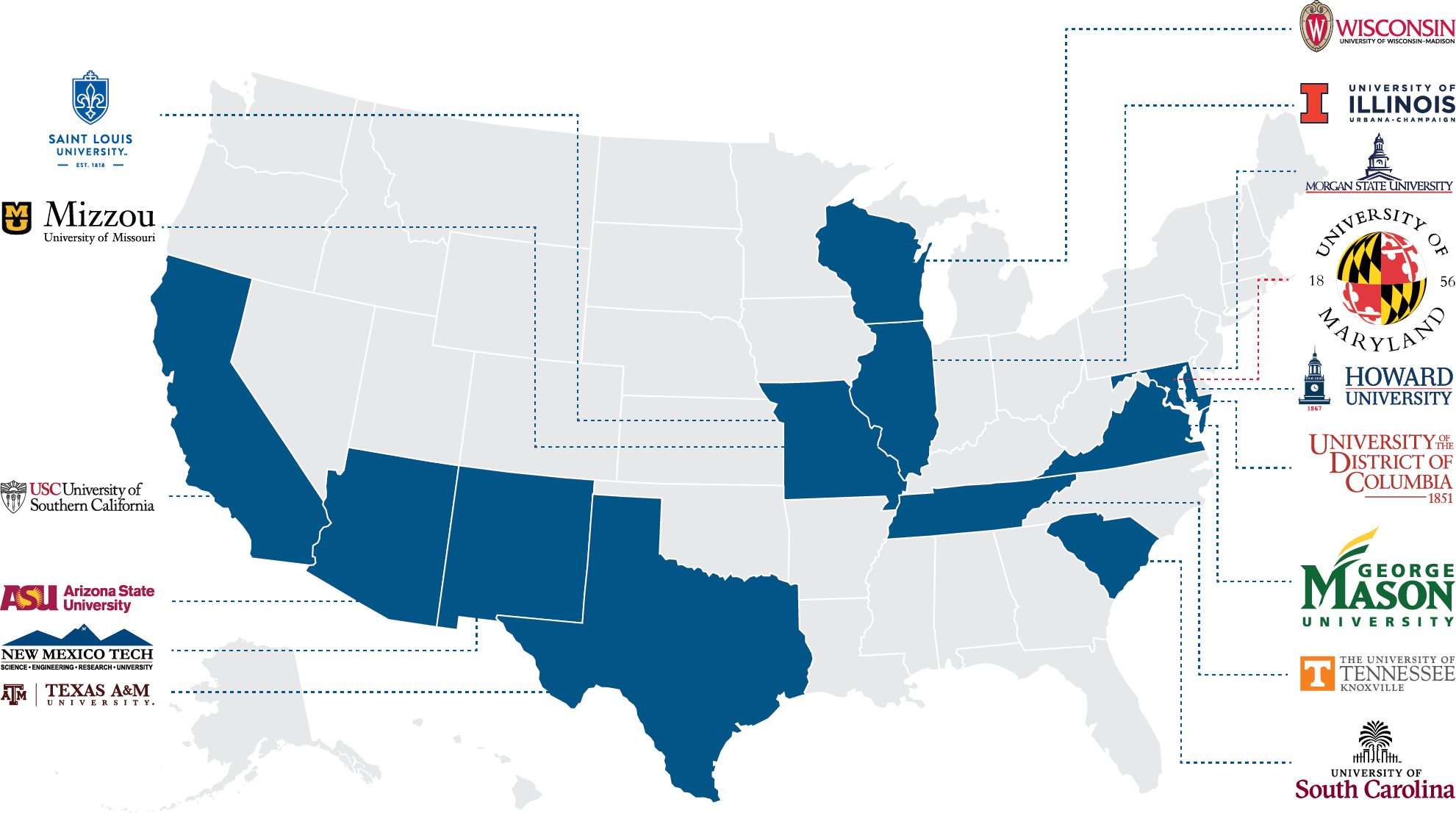 In 2020 ARLIS stood up the Intelligence and Security University Research Enterprise (INSURE)—a consortium of universities working together to respond to difficult intelligence and security problems. 
Modeled in part on the consortium approach of the Systems Engineering Research Center UARC at Stevens Institute of Technology, ARLIS and its university partners coordinate applied and use-inspired research activities for intelligence and security at member institutions, aligning projects with specific DoD and IC program managers and activities.  This alliance improves the translation of products into operational use and enhances the pipeline of students and faculty to work directly on technology problems for the national security community.
Why INSURE?
INSURE's top priorities are to:
Bring the right team to every problem ARLIS supports as a UARC;
Be the connector (and translator) for the IC and defense security communities to engage university talent; and
Combine resources to strengthen the current IC/DSE workforce and build a robust and diverse future workforce.
Bring the right team
By pulling together a network of universities nationwide with strengths complementing those in-house at ARLIS, we are able to respond with agility and a deeper bench as new hard problems come our way. 
No matter who you are, most of the smartest people work for someone else.
 - Joy's Law (attributed to Bill Joy at Sun Microsystems)
Be the Connector
Unlike the defense acquisition community, many of our stakeholders do not have programs and infrastructure in place to engage the broad academic community. In fact, in highly operational settings with immediate needs, teams rarely have the time or context to translate their challenge problems as science and technology problems that academic researchers can digest and respond to. In ARLIS's unique role spanning the intelligence and security and academic communities, we are able to connect the government groups with important problems to the right academic talent, leveraging the INSURE network and the applied research culture it helps to grow.
Build and Strengthen the Workforce
Activities include inventorying and sharing I&S-relevant professional education programs, STEAM initiatives, and working to bring new talent into the field, for example through the ARLIS RISC Initiative.
Who are the INSURE member institutions?
As the center of Defense Security/IC research engagement with academia, ARLIS admits partners to INSURE based on the following criteria:
Institutional strength
A track record conducting applied, quick-turn, mission-relevant R&D
Existing relevant intelligence and security partnerships to integrate into INSURE stakeholder community
Capabilities for training the current workforce and expanding the workforce of the future; and
Institutional leadership engagement and buy-in.
INSURE members include top R-1 research institutions around the country, working together with other strong research institutions too often left out of the defense innovation pipeline such as Historically Black Colleges and Universities (HBCUs) and Minority-Serving Institutions (MSIs).
What type of work is supported by INSURE?
INSURE projects must be within the scope of ARLIS core competencies and of UARC character and must include an ARLIS lead to track progress, connect relevant stakeholders, and integrate the effort into the corresponding ARLIS portfolio.
Where do projects come from?
There are multiple pathways to funding, including a member(s) engaging a potential sponsor directly about work and develop programming, members conducting joint program development, leveraging inter-institutional strengths, or a USG agency requests R&D effort needing ARLIS partners' strengths.